This article contains the following sections:
RACE Video Settings and Kiosk cannot be set up or modified by users with the agent or supervisor roles. Follow the steps in the article 'How to Initiate a Video Chat' for more information on how agents can use video calls in RACE. In order to access and manage RACE Video Settings, the admin role is required.
Guide Steps
While logged in as a Race administrator, navigate to the bottom left and select the Race Admin cogwheel [1].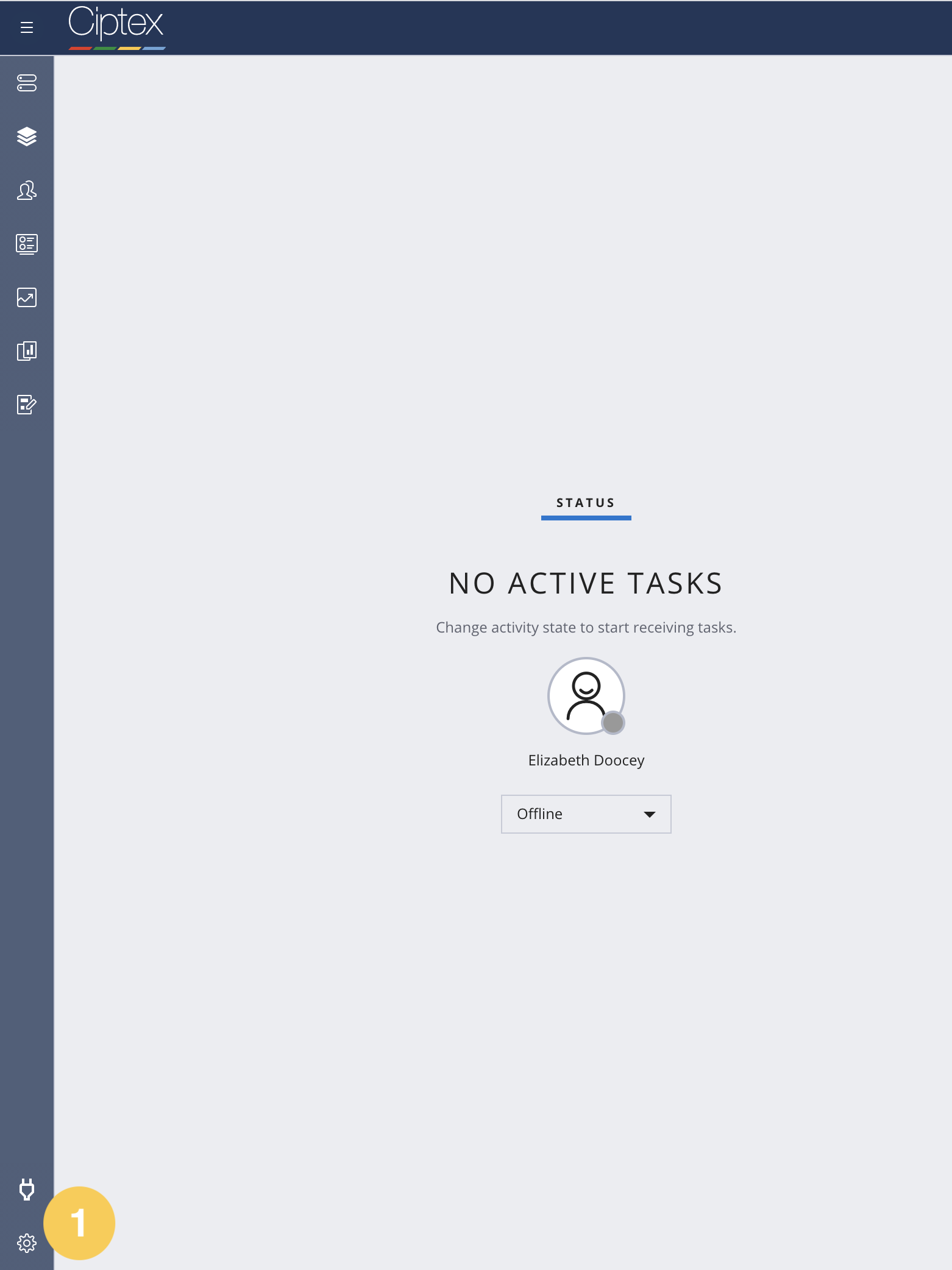 RACE Video Settings
The RACE Video settings section will allow you to change the agents' video call settings. First enter the 'Name for Outbound SMS' which the customer will see when they receive the SMS containing the video link. This will let the customer know who the SMS is from and that they can trust the link being sent.

Next you can set up a virtual background which can be used by all agents during video calls. This is useful for agents working at home who do not want their workspace to be seen by the customer. Click the grey toggle for the 'Virtual Background' to change it to blue. Next, enter the URL of the photo background you wish to use.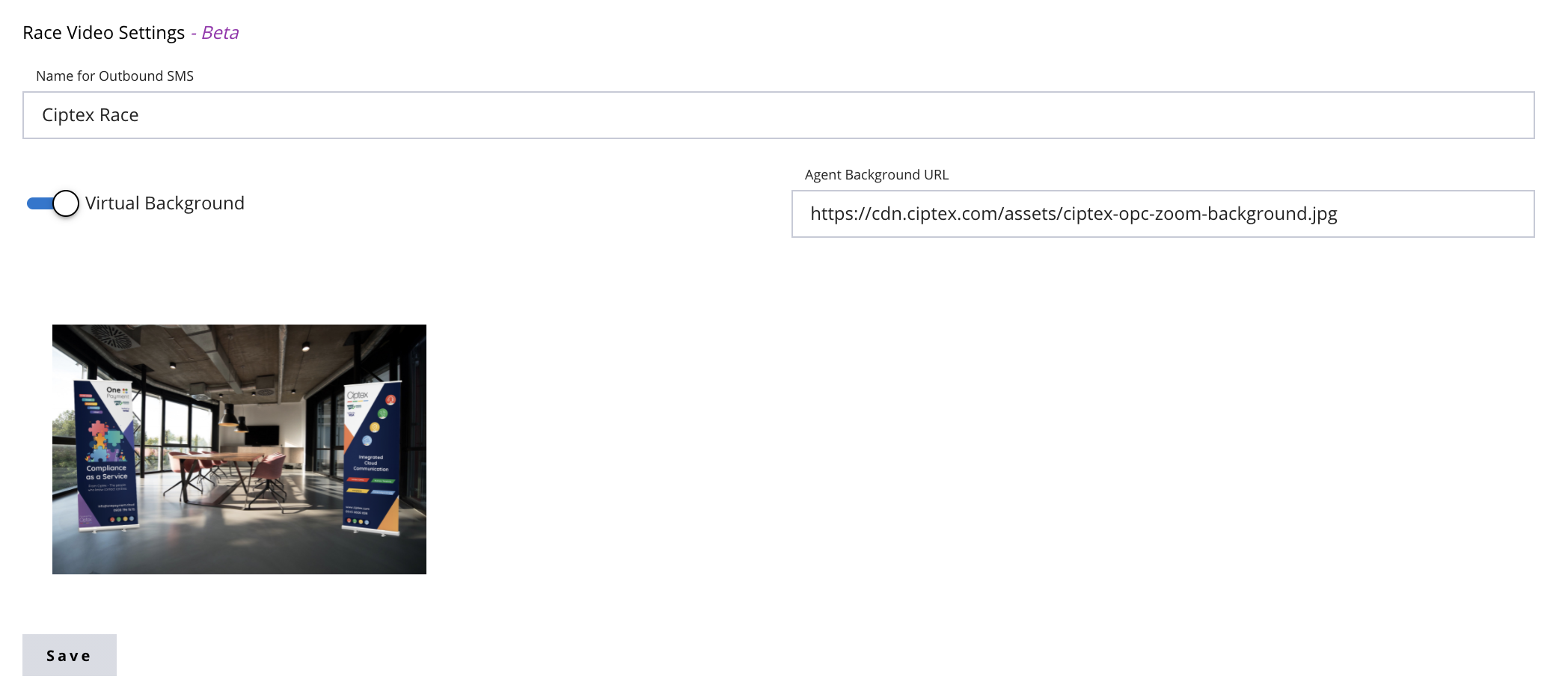 The chosen photo background should then display underneath the settings, at which point you can click save to activate these settings.
RACE Kiosk
When a customer clicks on the link to video call they will be taken to the RACE Kiosk on their web browser as shown below. From here customers can click start to initiate the video call with the agent.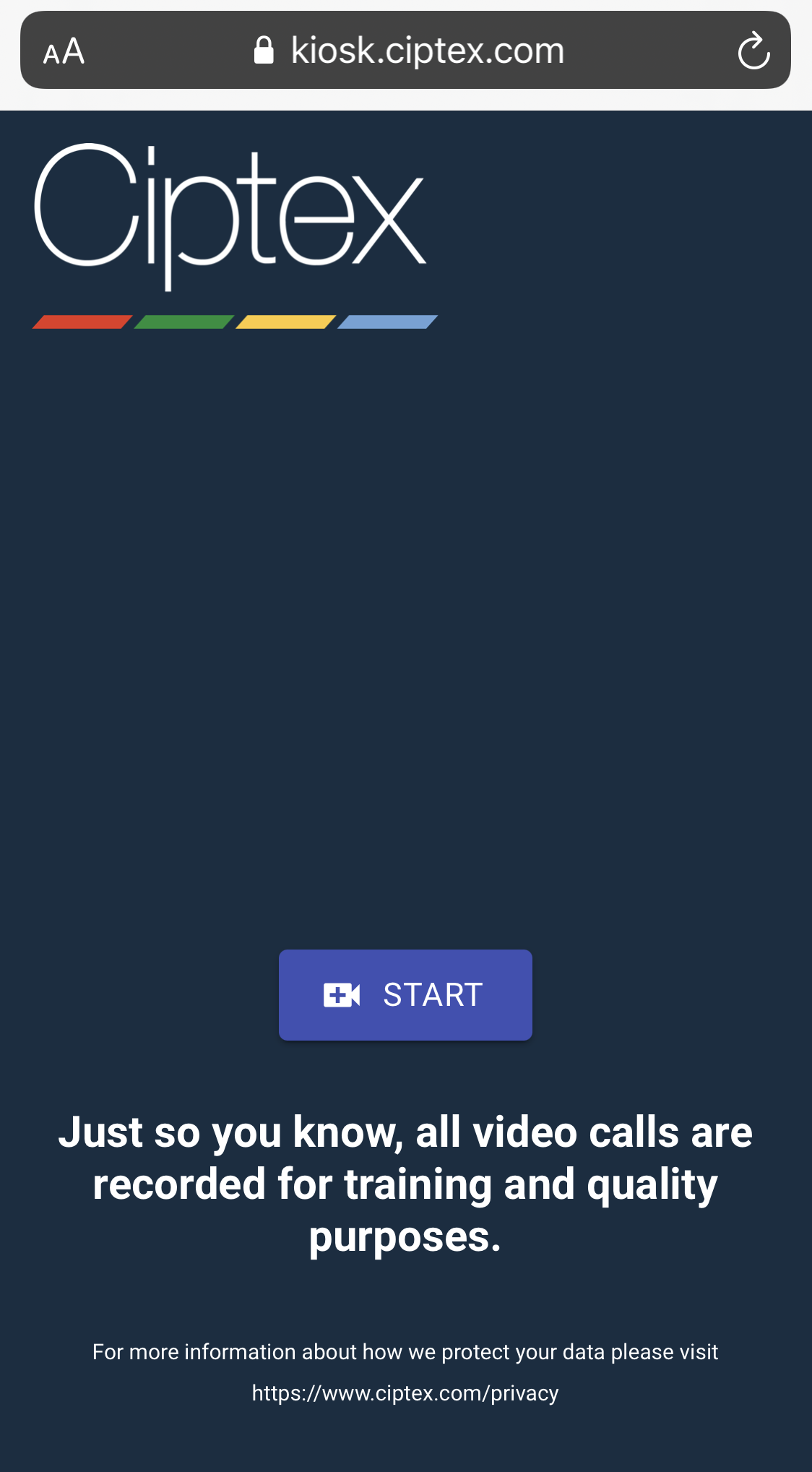 Kiosk Settings allows you to customise how this page looks to your customers.
Your logo will already be loaded into the settings but you will have to decide on the background colour of the kiosk to set it up. The colour must be entered as a hex colour code. The colour behind the logo preview will change when you enter a hex colour code, so you can preview what your logo will look like with the background.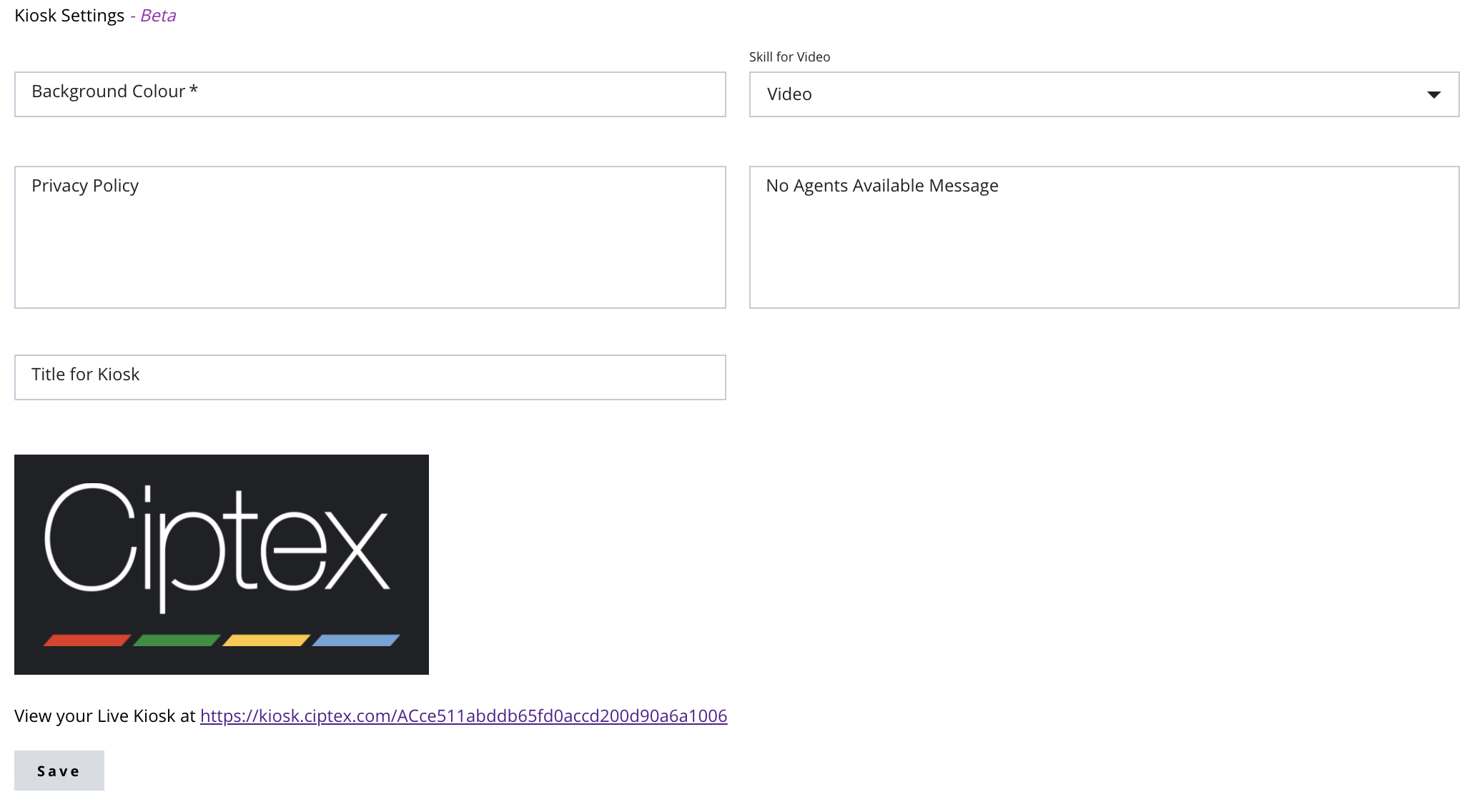 You can also enter a privacy policy message which will display at the bottom of the kiosk for customers who may be concerned about how their data may be used.
'No Agents Available Message' will allow you to set up a message which will display on the kiosk if a customer clicks on the video call link out of hours or when all agents have set their status to offline.
Finally, a name can be given to the kiosk and you can click save to activate these settings.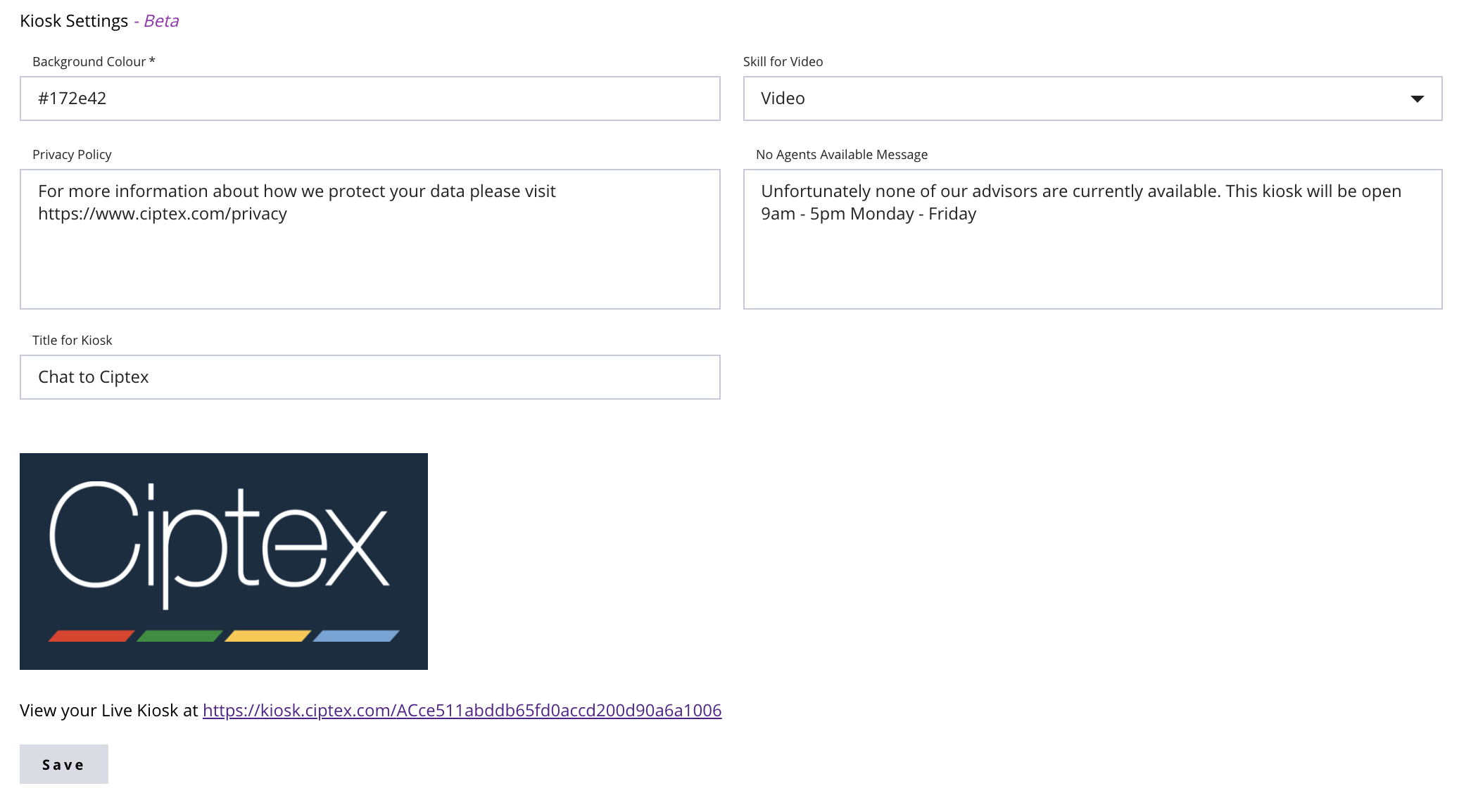 You can also preview your live kiosk by clicking on the link at the bottom and this will open a new browser window allowing you to see what the customer will see when they click on the video call link.